Ultra thin battery
Short Description:
Ultra thin battery,primary and rechargeable lithium polymer technology,world thinnest 0.4 mm thickness as thin as a paper to fit thin smart card and signal system projects.
Ultra thin battery includes two types: rechargeable thin lipo battery, primary ultra thin battery(non rechargeable),with very thin feature, widely used in many special projects and products, such as OTP cards, power cards, RFID, security system, tracking devices, medical devices.
Typical applications:
OTP cards
Power cards
Smart credit cards
Active RFID
Tire pressure testing system
GPS System
Nonstop charging system,
Container identification
Alarm system
Signal lights and the post indicator transfer
Back-up record power
Medical devices
Intelligence parking lot,
Vehicle charge checking
Mine personnel identification
Automated railcar identification management
Automated road charge management
Automated voyage passenger luggage identification transport management
Vehicle entry and exit control
Campus all-purpose card
Public transportation card
Associate card,
Driver license card
Wireless and other military equipment
Medical card
Animal identification(raising cattle, sheep, pigeon, etc)
Automated management of logistic & storage
Automobile remote control lock
Intellectualized door
Smart security cards
Wireless asset tracking tags
Electronics record tracking system
Digital devices
E-connecting goods
RFID tags
Powered smart cards
RFID Device
Sensors
1-     Rechargeable ultra thin battery.
Lithium polymer batteries with thickness of less than 1.5mm are always called rechargeable ultra thin batteries. So far, reliable thinnest rechargeable lipo battery is made with 1mm thickness. As a rechargeable lithium battery, this type of ultra thin battery has features as below:
Ultra thin, can meet special needs of some applications which require very small thin power parts.It's sometime like a paper with less than 1 mm thickness.
Long cycle life,300 times
Eco-friendly, no environmental pollution
Safe, no fire no explosion under use abusement.
No memory effect
Economical in long term with rechargeable features.
High voltage with 3.7V.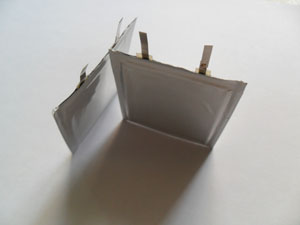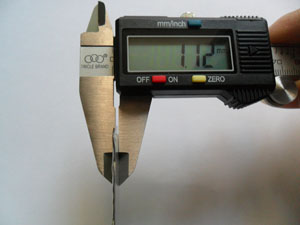 Some lipo rechargeable ultra thin battery regular models(Can also be customized for different sizes, capacity and voltages):
| | | | | | |
| --- | --- | --- | --- | --- | --- |
| Model | Voltage(V) | Capacity(mAh) | Thickness(±0.1mm) | Width        (±0.5mm) | Height     (±0.5mm) |
| PD014461 | 3.7v | 180mAh | 1 | 44 | 61 |
| PD114046 | 3.85v | 120mAh | 1 | 40 | 46 |
| PD124048 | 3.85v | 130mAh | 1 | 30 | 40 |
2-     Primary ultra thin battery(Non rechargeable)
This type ultra thin battery has similar appearance like rechargeable lipo battery, but has different materials inside, it's made of lithium manganese dioxide technology.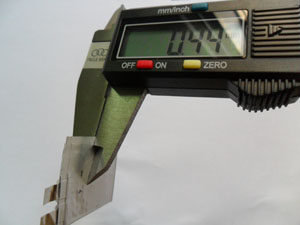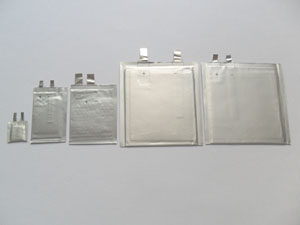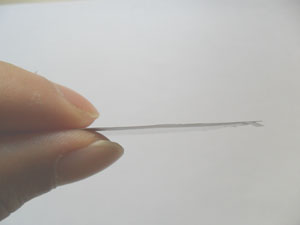 Unique advantages:
Ultra high energy density. 200%~300% of lithium polymer battery, as high as 400WH/kg.it means much smaller size and much higher capacity, longer work time.
Ultra thin. It's thickness can be as small as 0.4mm, fits requirements of almost all related intelligent thin cards and thin smart devices.
Long shelf life. Over 10 years under standard environment temperature.
Low self discharge rate. Less than 2% per year.
Low cost. Cheap price for each unit for replacement.
Safe. No fire, no explosion, great abusement tolerance.
Wide operation temperature. -20℃ ~+60℃
Regular primary ultra thin battery models list(Can also be customized for different sizes, capacity and voltages):
Model

Voltage

(V)

Capacity

(mAh)

Constant discharge

current

(mA)

Pulse current

(mA)

Dimensions

Operation Temp
(℃)

Shelf

Life

(years)

  T     (mm)

W  (mm)

H  (mm)

PDCP042229

3.0 V

18mAh

1mA

2mA

0.45

22±0.5

29±0.5

-20℃~60℃

10

PDCP042345

3.0 V

35mAh

2mA

4mA

0.45

23±0.5

45±0.5

-20℃~60℃

10

PDCP042529

3.0 V

22mAh

2mA

4mA

0.45

25±0.5

29±0.5

-20℃~60℃

10

PDCP042922

3.0 V

15mAh

1mA

2mA

0.41

29

23

-20℃~60℃

10

PDCP044040

3.0 V

50mAh

5mA

10mA

0.45

40

40±0.5

-20℃~60℃

10

PDCP044560

3.0 V

100mAh

10mA

20mA

0.45

45.5

60

-20℃~60℃

10

PDCP053050

3.0 V

80mAh

15mA

30mA

0.5

30

50

-20℃~60℃

10

PDCP054848

3.0 V

100mAh

20mA

40mA

0.5

48.5±0.5

48.5±0.5

-20℃~60℃

10

PDCP064848

3.0 V

200mAh

20mA

50mA

0.6

48.5±0.5

48.5±0.5

-20℃~60℃

10

PDCP084848

3.0 V

320mAh

20mA

50mA

0.8

48.5±0.5

48.5±0.5

-20℃~60℃

10

PDCP073545

3.0 V

160mAh

10mA

20mA

0.7

35

45

-20℃~60℃

10

PDCP101010

3.0 V

8mAh

1mA

2mA

1.05

10.5

10.5

-20℃~60℃

10

PDCP101020

3.0 V

22mAh

3mA

5mA

1

10.0±0.5

20.0±0.5

-20℃~60℃

10

PDCP101220

3.0 V

25mAh

0.5mA

1mA

1

12±0.5

20±0.5

-20℃~60℃

10

PDCP101830

3.0 V

45mAh

10mA

25mA

1

18

30

-20℃~60℃

10

PDCP102015

3.0 V

30mAh

2mA

5mA

1

20±0.5

15±0.5

-20℃~60℃

10

PDCP104848

3.0 V

420mAh

100mA

200mA

1.05

48.5±0.5

49

-20℃~60℃

10

PDCP105050

3.0 V

420mAh

100mA

200mA

1.05

50

50

-20℃~60℃

10

PDCP105075

3.0 V

450mAh

200mA

300mA

1.05

45.2

75

-20℃~60℃

10

PDCP105256

3.0 V

500mAh

30mA

50mA

1.05

52

56

-20℃~60℃

10
Previous:
Solar charger power bank PD-SC01
Next:
Ultra curved battery
---